Saving for a rainy day is a well-known financial saying…but what about the sunny ones?
With Vancouver's average of 169 rainy days per year, when summer begins, we enter into vacation mode. But going on a trip requires more than just sunshine: it's a combination of timing, planning and budgeting. With over 944,735 square kilometers to explore in British Columbia, you can have a dream trip without leaving the province.
At Vancity, we understand the importance of lowering your carbon footprint while keeping your financial goals intact and enjoying your summer holidays. Here are some tips to help you plan your trip without overspending.
Set a realistic travel budget.
As tempting as it is to jet off at the first hint of summer, it's important to first set a realistic budget.
Creating a detailed budget plan for your travel goals will help you get one step closer to stress-free days at the beach, spa or forest (or all three on the same day, it is BC after all!). Vancity has resources to help get you started with creating your own travel budget.
You'll need to figure out how much time you can afford to take off: planning ahead and budgeting for a weekend getaway is quite different from going on a two-week road trip. Sites such as Destination BC and Hello BC can provide a deeper insight into what the province has to offer.
Saving money well in advance, such as contributing a regular monthly amount to a dedicated savings account, will help you achieve your travel goals without worrying about finances. Sophie Salcito, a Vancity wealth advisor, suggests that "a high-interest savings account is a great way to save regularly and watch your money grow." It provides you with the flexibility to move money in and out of the account as you need – unlike a term deposit.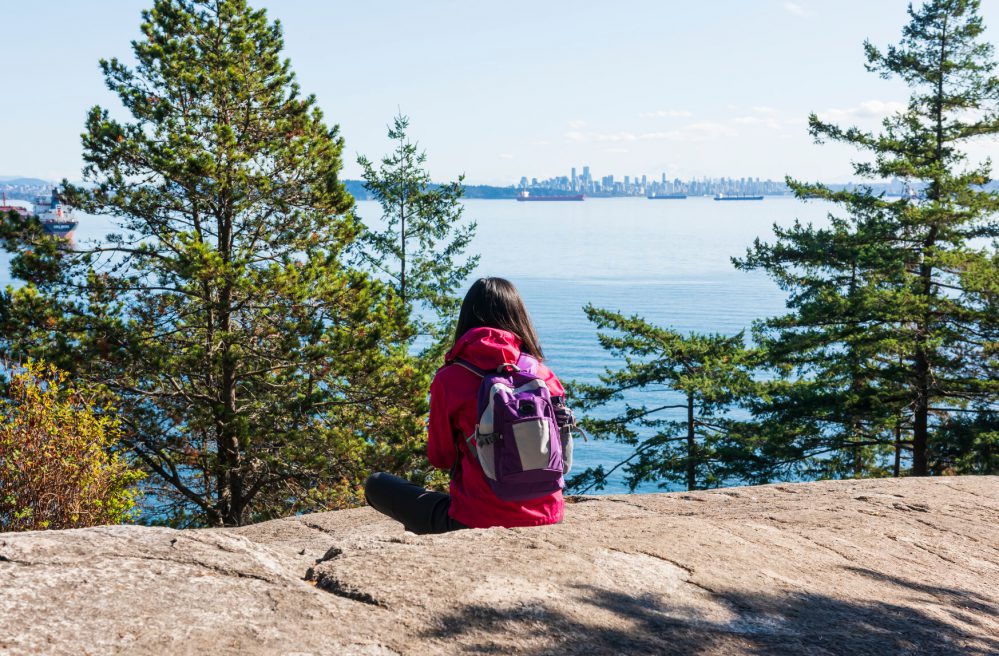 Choose affordable summer destinations in BC.
BC offers so many different destinations that it's easy to forget it's all in the same province. Choosing the right one will have a big impact on how you plan your budget.
Vancouver Island: Vancouver Island spans 460 kilometres with popular tourist destinations like Tofino, Victoria and Parksville.
For a truly captivating experience, visit Alert Bay on Commorant Island. The island is situated on the traditional Kwakwaka'wakw territory where you can explore First Nations adventures, sea kayaking, wildlife watching and so much more. Since Vancouver Island is only accessible by ferry or air travel, it will impact your transportation budget. But don't worry, if you need any financial assistance, there's a Vancity branch there.
Okanagan Valley: Sipping local wine lakeside at sunset sounds like a perfect evening in the Okanagan Valley. From Osoyoos to Vernon, you'll discover lakes, mountains, deserts, forests and the kitchen sink. As a beloved culinary and wine destination, plan your meal budget accordingly so you can savour every bit of what the area has to offer.
Metro Vancouver: Whether you're a city local or visiting from elsewhere in the province, BC's largest metropolitan area has some stunning travel options, ranging from Whistler to Harrison Hot Springs. As a major Canadian city though, accommodation costs may run slightly higher than average depending on where you stay.
Use money-saving travel hacks.
It can be easy to throw caution to the wind and throw money up in the Pacific Northwest Coast air once you're in vacation mode. Keep these travel hacks in mind so you can still save money while living your best holiday life.
Pack smart: If you're flying to your destination, consider packing light with a carry-on to save money on baggage fees. Rolling up your shirts to save space goes a long way!
Save on souvenirs: This is when impulse buying starts. Skip the typical travel souvenirs like magnets and shot glasses. They often collect dust and are a waste of money. Instead, look for food items like chocolate, tea, spices, liqueurs and coffee. They make great gifts too.
Take advantage of loyalty programs and travel rewards: To really get ahead of the curve, you can take advantage of the Vancity Rewards with enviro™ Visa*. It not only provides travel coverage such as auto rental collision and loss damage insurance but aims to make an environmental impact with 5 per cent of profits from this card supporting the Vancity enviroFund™* program.
Explore cost-effective accommodation options.
If you could make the most out of every minute of your trip, you'd be up all night exploring. Unfortunately, sleep is a necessity. Fortunately, there are numerous budget-friendly options to consider:
Hostels: If you're happy to share space with others, hostels are a popular option; a bed in a shared room can cost as little as $30 to $40 per night, depending on the date and location. Hostelling International Canada and HostelWorld are two well known sites to help search for the right hostel for you.
Vacation Rentals: Popular vacation rental apps like VRBO and AirBnB offer a variety of accommodation options, from cabins to apartments. Check out the most recent reviews before choosing a rental home that suits your tastes and budget.
House Sitting: A lesser-known option, house sitting is not only a budget-friendly option but one that actually pays you to go on holiday. This is best suited for travelers who have the time to care for pets during your stay. Check out Trusted Housesitters and House Sitters Canada to find the right holiday home (and temporary furry friend) for you.
Manage expenses and track spending.
Keeping track of your expenses while traveling is essential to staying on budget, especially if unexpected events come up, which of course, will happen as fate often has.
There are numerous apps specifically designed to help you with expense tracking. If you're traveling in a group, Splitwise is a popular app that helps organize expenses so there's no need to worry about solving math problems at the end of your meal. If you're not the most tech-savvy, TravelSpend is another easy-to-use app that tracks your daily spending. The best part? It doesn't require data.
Creating a daily spending limit is helpful as it sets realistic expectations while also helping to prevent excessive splurges. One tip you can try is withdrawing cash instead of using credit or debit cards and only going out each day with your daily spending limit. Just be sure to keep your credit or debit card on hand in the event an unexpected cost comes up.
Find free and low-cost activities.
Creating lasting memories doesn't have to strain your wallet.
Public Parks: BC's provincial parks have become so popular that BC Parks has implemented day-use passes for their most popular attractions including Joffre Lakes Park, Garibaldi Park and Golden Ears Park. While passes are free and are available online, it's recommended to book well in advance to avoid disappointment.
Local Events and Festivals: Where there's summer, there's a festival. Every summer Kelowna hosts a free 9-week outdoor summer concert series, Parks Alive!. Other favourites in the summer include Farmer's and Artists Markets.
Cultural Events and Museums: Indigenous Tourism BC supports the diverse cultures of 204 Indigenous communities throughout BC. Haida Heritage Centre in Haida Gwaii offers cultural tours for $15.00 daily in the summer; visitors to the area are asked to sign the Haida Gwaii Visitor Pledge before arriving.
You've saved. You've planned. Now time to relax.
After all the dollars saved and endless hours planning, it's now time to enjoy your well-deserved vacation. The budgeting, the travel hacks, the expense tracking… It'll all be worth it once you get to your destination. You've done all the work to make your dream summer a reality. Now, apply some sunscreen and relax.
*Trademark of Visa Int. Used under license.