Did you know that you're entitled to one free credit report per year by mail from the two main credit bureaus in Canada?
And if you can't wait for a free report by mail, you can always get an instant one online with either credit bureau for approximately $15. Your free credit report does not list your actual credit score (you have to pay extra for that), but it's still helpful, especially if you understand how a credit score is calculated.
If you know what to look for, your credit report can be a powerful tool in boosting your credit score and protecting you against identity theft. Here is how to request yours from Equifax and TransUnion.
How to read your credit report to make sure it's accurate:
1. Personal information
Review this to make sure it is up-to-date.
2. Consumer statement
If something on your credit report is in the process of being disputed (like an error or activity related to identity theft), your explanation of the issue appears here.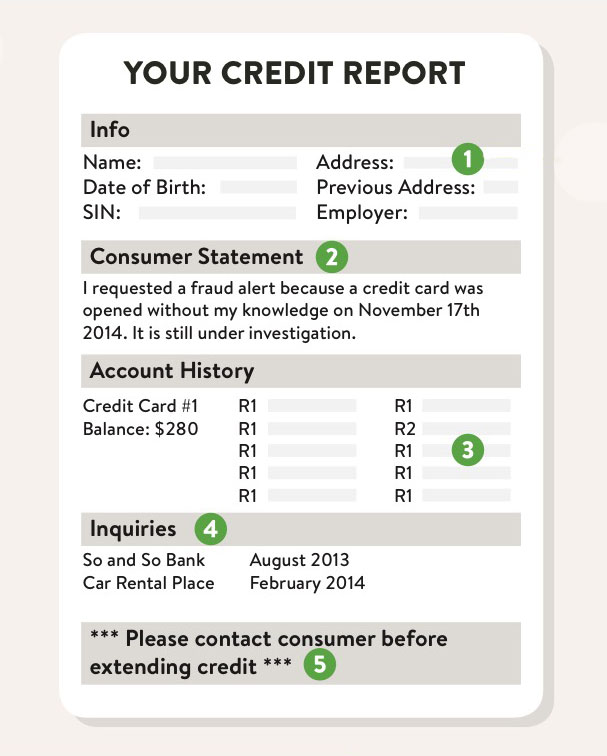 3. Account history
Go over this section carefully. Some credit bureaus use symbols or codes to indicate the status of your account (see some common examples below).
Keep an eye out for:
Accounts that aren't yours
Closed accounts listed as open (and vice-versa)
Errors in your account history (like late payments)
A missing notice of dispute (there should be a record of any errors you've reported in your account history)
Negative activity that's more than seven years old.
4. Inquiries
Here you can see which lenders and companies have pulled up your credit report. Contact any companies that accessed your report without your permission.
5. Fraud alert
If you suspect that you're a victim of identity theft, you can request a fraud alert. This requires lenders to verify ID before extending any credit in your name.
Need more help?
Each of the major credit bureaus provides a detailed guide on reading their credit reports that can be accessed through their website: