We are celebrating the holiday season with 5 Days of Giveaways from Monday, December 18 to Friday, December 22, featuring prizes from Vancity business members and community partners.
Each day during our 5 Days of Giveaways a new prize will be revealed – here on our blog, as well as on the Vancity Facebook and Instagram accounts.
Follow the instructions on Facebook and Instagram to enter each day (you can double your chances by entering on both social channels!). See full rules and conditions.
Day 5: Friday, December 22
5 copies of Ned Bell's Lure: Sustainable Seafood Recipes from the West Coast cookbook
To enter, visit the contest post on Facebook and Instagram.
This stunning cookbook, authored by chef and seafood advocate Ned Bell, features simple techniques and straightforward sustainability guidelines around Pacific species, as well as 80 delicious recipes to make at home. You'll find comfort food items like tacos, fish burgers, chowders, and sandwiches, as well as elegant (albeit still simple-to-execute) dinner party options, such as crudo, ceviche, and caviar butter.
Vancity has a long-standing relationship with Chef Ned Bell and is the official sustainability partner of the cookbook. Many of the organizations Vancity supports are featured in Lure: community partners such as Skipper Otto, Organic Ocean, SeaChoice and Ocean Wise, who are all helping ensure we have healthy oceans for generations to come.
Find out where to buy Ocean Wise seafood in Metro Vancouver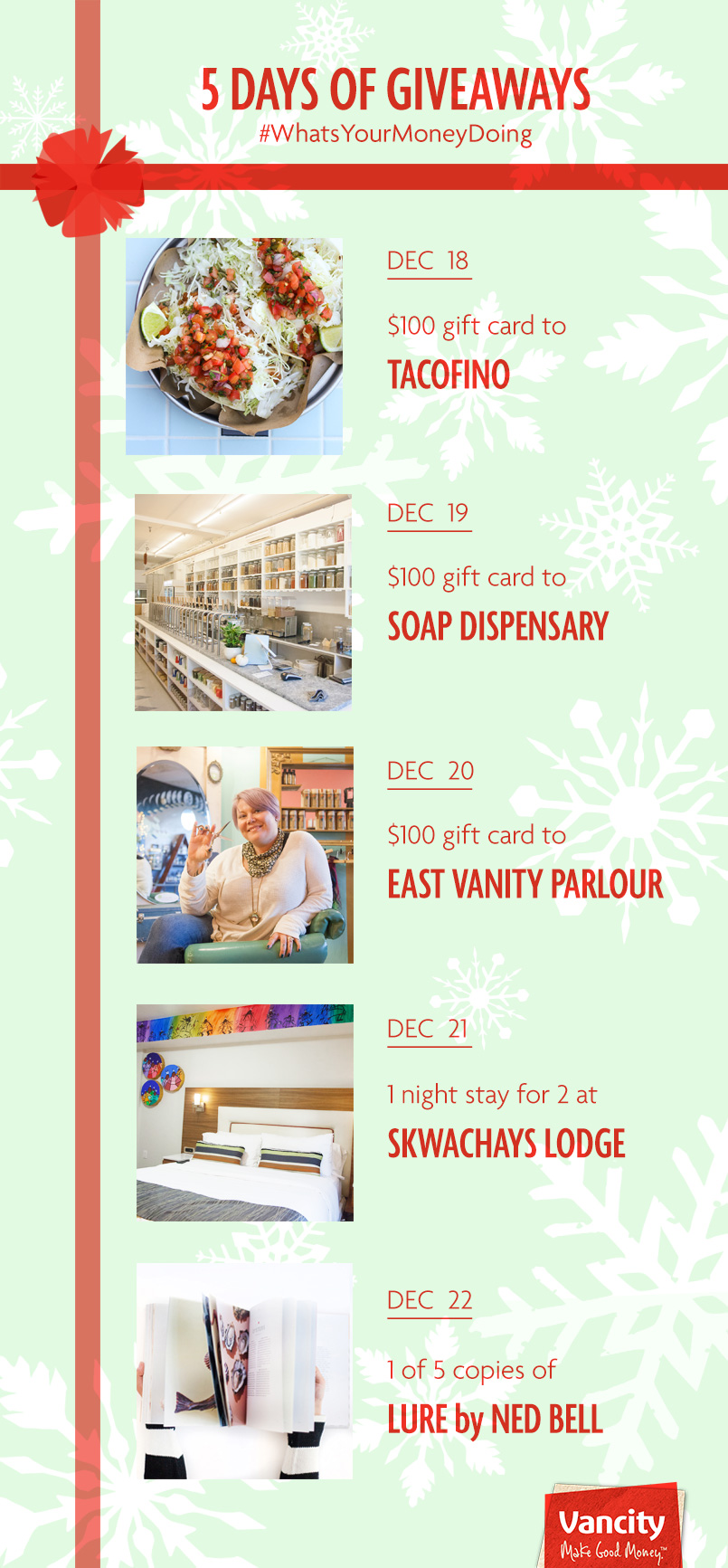 Day 1: Monday, December 18
$100 Gift Certificate to Tacofino Vancouver or Victoria
To enter, visit the contest post on Facebook and Instagram.
Serving delicious tacos and promoting environmental sustainability go hand in hand with Tacofino, one of Vancouver's most well-known eateries. Whether it's from the original location in Tofino, their location in Victoria or numerous food trucks and locations around downtown Vancouver, Tacofino is dedicated to serving their communities while reducing their environmental impact.
Their location in Gastown was built with the help of a $350,000 loan from Vancity, to help them renovate and purchase new equipment.  However, Tacofino's relationship with Vancity goes much deeper than that. Vancity has helped Tacofino connect with partners like Recycling Alternative which aims to help them dramatically reduce carbon emissions from organic waste and truck fuel.
Read the Tacofino impact story
Day 2: Tuesday, December 19
$100 Gift Certificate to The Soap Dispensary
To enter, visit the contest post on Facebook and Instagram.
The Soap Dispensary founder Linh Truong has dedicated herself to keeping Vancouver squeaky clean, one refillable soap bottle at a time. At her Main Street shop, she refills customers' dispensers with soaps made from non-toxic, natural ingredients, which is both environmentally savvy and a great help to those with sensitive skin.
Back in 2011, Vancity provided Linh with the microloan she needed to jumpstart The Soap Dispensary, and since then, she's already diverted tens of thousands of containers from reaching the landfill. The Soap Dispensary is no longer just about soap and has become Vancouver's first zero-waste market with the introduction of kitchen staples like olive oil, spices, cheese and even ice cream (from another Vancity business member, Earnest Ice Cream!).
Read The Soap Dispensary impact story
Day 3: Wednesday, December 20
$100 Gift Certificate to East Vanity Parlour
To enter, visit the contest post on Facebook and Instagram.
Under the surface, the tattooed, wild haired hooligans at East Vanity Parlour are hair and beauty nerds reinventing vintage looks for modern women and men. Some of them are even burlesque and pinup queens. They too believe you can run a successful business that supports our local economy, our communities and the environment at the same time. Here are some of the things they do: they are the first business to work with WISH's social hiring project which helps women gain work experience and build their resumes. They work with Green Circle Salons and recycle 98% of their waste into hair booms that help clean up oil spills. East Vanity Parlour also supports local, female entrepreneurs who create beauty brands that are paraben free, sulfate free and never tested on animals.
Read the East Vanity Parlour impact story
Day 4: Thursday, December 21
One Night Stay for 2 at Skwachays
To enter, visit the contest post on Facebook and Instagram.
Part boutique hotel, part fair trade gallery, part healing lodge and part social enterprise; the Skwachays (pronounced squa-chize') Lodge and Residence on 31 West Pender Street plays a major role in the Vancouver Indigenous community. Guests can go to Skwachays to enjoy a unique combination of art, culture and hospitality. Profits from the hotel and gallery go on to support their Artists in Residence and 24 shelter rate apartments for Aboriginal people at risk of homelessness. In 2010, Vancity helped finance the lodge with more than 2 million to start construction. Vancity has also provided advice on the art gallery and the healing lodge.
"This project represents the type of community impact investing that Vancity wants to support," says Stewart Anderson, a Vancity manager for community investment. "Skwachàys is a significant asset for the community."
Read the Skwachays Lodge impact story
Read more: